Junior Varsity Letter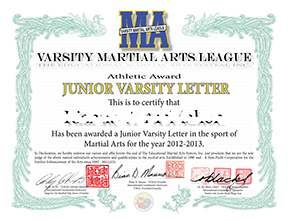 Varsity Letter
Collegiate Letter

VMAL Program Requirements
1. Complete the following requirements between June 1 and May 31, per application year:
2. Log at least 100 hours of martial arts training/classes.
Only time spent actively working with an instructor can count. The following cannot be used towards the hour requirement: individual training, other sporting activities, viewing class without participation, time driving to competitions, time spent driving to class, time spent at competitions when you are not competing, etc.
3. Must assist or participate in a minimum of nine (9) hours of additional martial arts activities.
Belt tests, exhibitions, leadership classes, assist in classes, championships, clinics, camps,  exhibitions, etc.
4. Provide verification of competing in four (4) competitions
Any competition that is organized by a recognized martial arts organization or club will count toward the requirement. Example: All local, state or international tournaments, championships, olympic and junior olympics, etc. and many more.
Verification must include student's name as a competitor along with the competition's name and date.  Verification accepted includes- results printed from an online source, invoice from competition, signed letter from competition organizer and or participation certificate.
The following will not be accepted as competition verification- class lists, entry forms, photos of ribbons or awards, or year-end results.
5. Provide current proof of enrollment in academic educational institution/homeschool designation.
Current report card, current transcript, current mid-term report card, or certification or enrollment in a home schooling program. The participant must maintain a minimum grade point average of 2.5.
Verification must include student's name, appropriate grading period, and institution name/homeschool designation.
Please black out your social security number if it appears on your transcript before submitting the document.
6. Submit your documentation once the requirements have been completed:
Online: The "Varsity Martial Arts League Member Portal" that will provide full relational database login and security will be online for your use soon
Email: Scan documents, clearly print your name and birthdate on each document submitted and send to: documents@vmal.org
Mail: TEMAS co:VMAL, 12285 World Trade Drive Ste. B, San Diego, CA, 92128
Fax: 858-673-4137
Please allow two weeks for submitted documentation to be reviewed by VMAL. Once all requirements have been met, an email will be sent with your Certificate of Achievement and directions on how to order your Varsity Martial Arts League varsity letterman patch, lapel pin, and exclusive VMAL Martial Arts Athlete apparel. Email: awards@vmal.org
For more information about the program, please visit www.vmal.org .
Please contact VMAL or info@vmal.org or 858-487-6406 with questions regarding this program.
Sponsorship and Donations
Continued growth in education and community development occurs through constant effort in a positive direction with support from sponsorships aand donations. Sponsorhsip in the Varsity Martial Arts Leauge is open for review and acceptance. Please contact donations@vmal.org. You may support the VMAL or TEMAS by making a donation at www.temas.org or by mail.
This site available for viewing while under construction